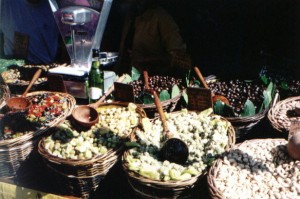 If you have ever searched for a sure-fire 'recipe' to open a topic of conversation, try asking someone about their favorite foods as a child.  But, I must warn you to prepare yourself:  grab up a cup of coffee, settle yourself into a comfortable chair, or snug up to their kitchen table because you are headed for a most passionate journey.  Immediately, the fondest of memories will rise to the surface—moments of delight of holidays past, favorite foods, cherished traditions and beloved family stories will all bubble forth.  And before you know it, he or she will jump up, eyes bright with excitement, rush to the kitchen cupboard and return with a favorite recipe card clutched in hand.  "Here it is," will be the exclamation.  And there, all smudged with past efforts, will be the proof of a favorite recipe worthy of sharing.  With arms flailing and mixing motions sweeping the air, the culinary treasure will be rattled off to you, along with a chorus of laughter and stories shared about times of days past.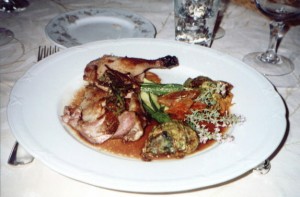 As a retired family therapist with a not-so-uncommon love of good food and travel, I challenged myself to search for stories in both Italy and France. Beginning with the simple desire to learn more about "family" through culture and tradition, I asked each person—no matter their age—to tell me about their favorite foods.  The above scenario was repeated for me time and time again.  I was not only invited into the warmth of their kitchens to sample the best of their traditional foods, but was served, as a side dish, the most amazing of stories.  Yes, some folklore; some myth; but always with an element of truth mixed with a pinch of humor and offered graciously on a platter.
It was a most delectable journey I embarked on several years ago and it is one that I continue to this day.  And so you will find in the writings that I offer you through my website, an 'amuse-bouche,' so to speak—a small compilation of recipes, stories and anecdotes to whet your appetite for the books to come.
My first book(s) to be published are entitled, Savoring the Olde Ways: Italian-Style; Savoring the Olde Ways: French-Style; and Savoring the Olde Ways: Provençe-Style.
My historical novel, A Cup of Redemption, which will hopefully be published in the near future, arose from conversations told over countless cups of coffee and glasses of wine about families struggling to survive the ravages of world war.  It is based on three women whose own stories of love and war—from WWI to the War in Afghanistan—thrust them together to sort through one of life's greatest wartime mysteries:  'Who am I–really?'
Fault Zone – Stepping Up to the Edge
Gem & Jetsam 3527 20th St., San Francisco, CA
7:15  – 8:15 pm, Oct 13,2012
Presented by San Francisco/Peninsula Branch of the California Writers Club
Stories guaranteed to shake up readers' imaginations. Featuring Carole Bumpus,  James Hanna, Audrey Kalman, Elise Frances Miller, Lisa Meltzer Penn, and Christopher Wachlin.
Carole Bumpus is author of A Cup of Redemption, an historical novel about women survivors of war, and writes a food/travel series, Savoring the Olde Ways.
James Hanna's stories have appeared in Old Crow Review, Edge City Review, Sandhills Review, Eclipse, Fault Zone, and The Sand Hill Review (of which he is the fiction editor).  Two of his stories received Pushcart nominations.  His novel, The SIege, will be published in 2013.
Audrey Kalman is author of the 2011 novel Dance of Souls and has published poetry and an award-winning short story. She's working on another novel.
Elise Frances Miller's novel, A Time to Cast Away Stones, is currently available. Her stories appear in The Best of Sand Hill Review and Fault Zone 1 & 2.
Lisa Meltzer Penn, Fault Zone editor has stories in Fault Zone, Best of Sand Hill Review and Travelers' Tales. Her novel, The Siren Dialogues, will be published in 2013.
Christopher Wachlin lives in Redwood City. He is a co-founder of Stoneslide Books and The Stoneslide Corrective e-magazine.